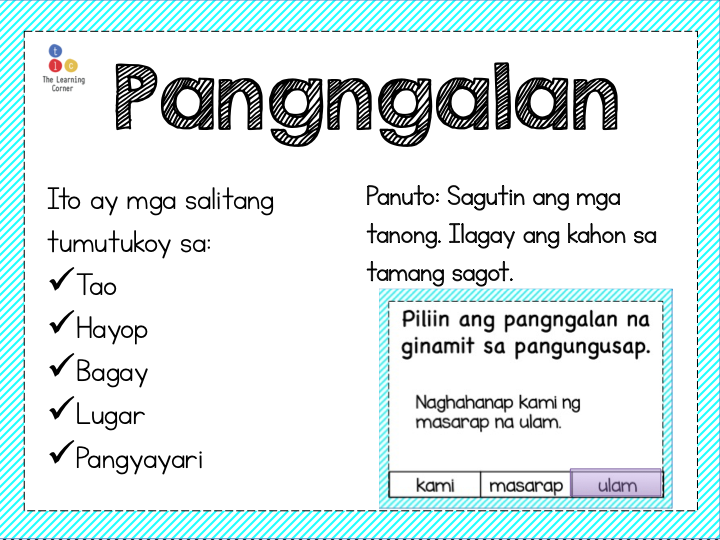 Ang mga pangngalan (nouns) ay mga salitang tumutukoy sa ngalan ng tao, hayop, bagay, lugar, o pangyayari. These are words that name people, animals, things, places, or events.
Ang mga salita sa ibaba ay ilan sa halimbawa ng mga pangngalan.
Tao (people): nars, doktor, dentista, nanay, Gng. Cruz
Hayop (animals): aso, pusa, gagamba, langgam
Bagay (things): kape, Toyota, iPhone, kurtina
Lugar (places): SM, palengke, pamilihan, Makati City
Pangyayari (events): Pasko, kaarawan, binyag, kasal
Here's an activity you can use for identifying nouns in a sentence. To extend this, you can ask what kind each noun is – is it tao, hayop, bagay, lugar, o pangyayari.
This is a Google Slide file which you can incorporate to your online classrooms for distance learning. If you're homeschooling, you may also print it out and use it as task cards.
How to make a pangngalan task card
Things you'll need: printer, scissors, laminating machine, blank piece of paper
To make a task card, download it from Google Slides as a PDF file. Print the worksheet. Cut it along the lines so that you have four questions in one page. Laminate (to make it durable). Once that's done, this can be answered as a task card where they answer each question one at a time.
You can also use these as clip cards! The options are at the bottom, so just prepare clothespins or even flags for your students to identify the correct answer.
Another fun way to use this is to have a scavenger hunt! Scatter the cards you printed out around an area of your home. Your students can write down their answers on dry erase boards or on a piece of paper.
How to use this activity on Google Slides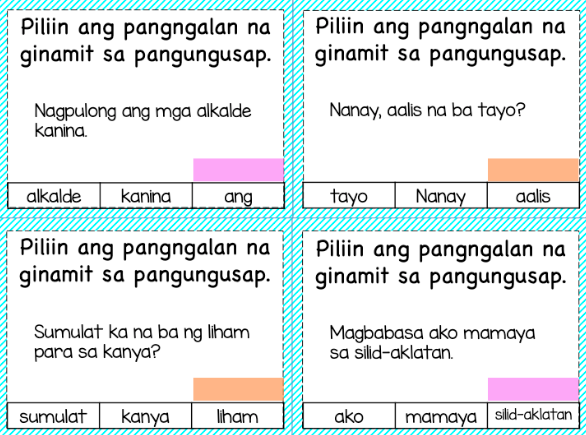 To open this file, log in to your Google account. Open the file and make your own copy. Making a copy will ensure that the master file isn't moved. Drag and drop the pieces to mark the correct answers. In order to drag and drop the pieces, make sure to stay on edit mode.
BONUS TIP! If you want this as a self-checking review for your students, you may convert these as Google Forms. Click here to see how.
To find more activities about pangngalan, click here!